Television show trade mark
A punchy, multi‐word name, with a play on a well‐known idiom or quip is favoured by most television show producers. Think, HOW TO GET AWAY WITH MURDER, HOW I MET YOUR MOTHER and THE BIG BANG THEORY. Single‐word names are also popular for TV ‐ SHAMELESS, FRIENDS and the famous SURVIVOR series.
Try using an idiom in an incongruous style, such as ORANGE IS THE NEW BLACK, which plays on the iconic fashion item "the little black dress", to enhance the distinctiveness of the television trade mark.
Unless the script (i.e. how your mark is written and not the televisions script) is of particular importance, file the name of your show in block capitals. Also, file the logo to avoid copycats. Everyone instantly recognizes the SURVIVOR banner: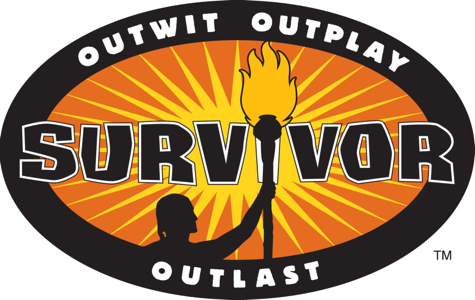 Common practice is to turn those nice, long names into a pithy acronym. Anticipate your street cred by filing a trade mark for what will become its Insta and Twitter hashtag. For example, only Dads won't recognises #GOT as GAME OF THRONES and SNL as Saturday Night Live; but ready yourself for "BZN" ‐ Touché. And, while we're at it, think about filing applications for well‐known catch‐phrases like #dropyourbuffs or #immunitychallenge.
Class 41 is your primary class, as this covers entertainment services. However, TV show brand extension and merchandising opportunities demand that you should also give consideration to the following classes:
Class 3 ‐ beauty and skincare products, cosmetics
Class 9 ‐ software, sunglasses, DVDs, magnets
Class 14 ‐ jewellery and watches
Class 16 ‐ paper goods, magazines, disposable partyware
Class 18 ‐ bags and suitcases
Class 21 ‐ mugs, water bottles
Class 24 ‐ beach towels, bed linen
Class 25 ‐ hats, buffs, t‐shirts
Class 26 ‐ hair clips and decorations
Class 28 ‐ board games and toys
Class 29‐31 ‐ foodstuffs
Class 32 and 32 ‐ beverages and alcoholic beverages
That's a long list, but the classes you choose will depend on how much merchandising you create. A good idea is to start off with your TV show trademark application in class 41, and then add classes as you expand into different markets, or to anticipate chancers who wish to sponge off your reputation.
| Mark | Class |
| --- | --- |
| DORA THE EXPLORER word mark | 3 (beauty and skincare products, cosmetics), 9 (software, sunglasses, DVDs), 16 (paper goods, magazines, disposable partyware), 18 (bags and suitcases), 21 (bottles and lunchboxes), 25 (hats, buffs, t‐shirts), 28 (board games and toys), 29 (foodstuffs), 30 (foodstuffs), 38 (telecommunications services), 41 (entertainment services) |
| | 25, 28, 41 |
| | 9, 16, 25, 28 |
| | 3, 9, 16, 18, 25, 28, 29, 30, 41 |
| DORA AND FRIENDS: INTO THE CITY | 25, 28, 41 |
| DORA THE EXPLORER DIEGO | 16, 25, 28 |
| DORA AND FRIENDS | 25, 28, 41 |
| | 3, 18, 25, 28, 41 |